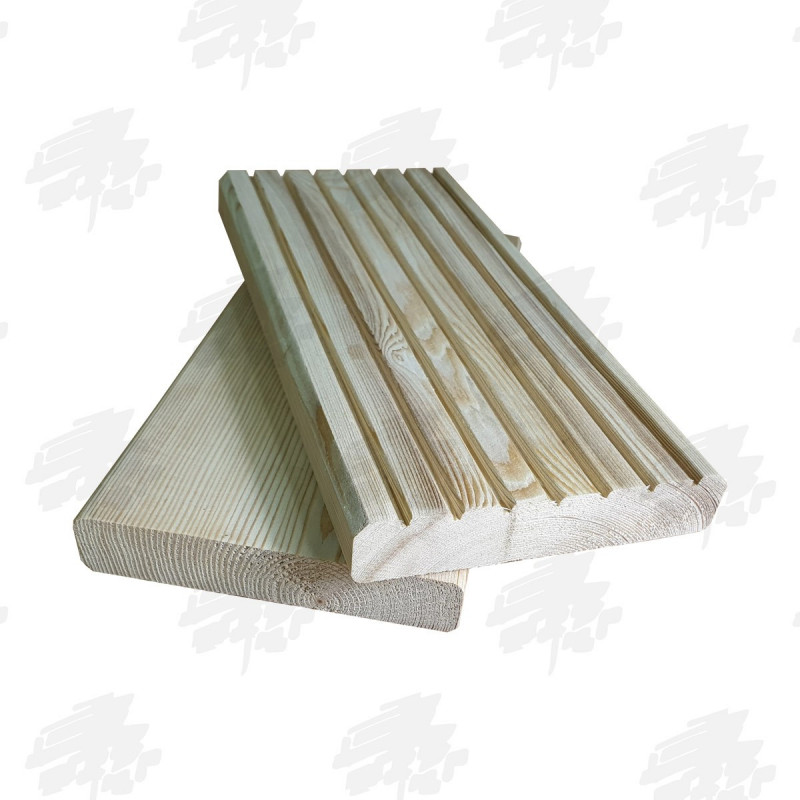  
Siberian Larch Decking 145mm
Siberian Larch is naturally durable and commonly known as one of the strongest softwoods in the world.
When choosing suitable materials for decking it is important to look for a material that is hardwearing, stable and will stand the test of time in terms of traffic and its environmental elements. Siberian Larch meets all of these criteria whilst also being environmentally credible.
It is a pale reddish-brown, sharply defined from the narrow, lighter-coloured sapwood. It has a straight grain, a fine uniform texture and is heavy.
This particular decking can be left to turn silvery grey or be treated to prolong its colour, popular as it greys evenly and requires minimum maintenance. Taking good care of wood in exterior applications is of paramount importance as it not only provides protection to your decking but it will also enhance its natural beauty and feel. By protecting it from the elements you'll also be increasing its resistance against rot, decay and insect attack. UK Timber works closely with the Treatex brand to provide you with a range of products that offer great value for money without compromising on effectiveness or quality.
Our 145mm Siberian Larch Decking Boards can be either machined with a bevelled edge non-slip profile or planed smooth for a more contemporary effect, please make a note of your chosen finish with your order, if no preference is stated then a profiled finish will be supplied!
In addition to our decking boards, for those finishing touches, we stock spindles, hand and base rails and ready-made complete panels for speed and ease of fitting.
Still unsure? We offer up to two samples of our decking boards for a £5 inc VAT postage charge. Should you wish to then purchase decking boards that are the same product as your samples, we will reimburse you the £5 postage charge upon ordering! Please feel free to contact our Sales Team on 01536 267 107 if you have any questions.
Priced per board.
Our Siberian Larch Decking is best used with our Siberian Larch Joists. Siberian Larch has great natural resistance to weather and wear, and unlike other softwoods, is known to last many decades in situ.