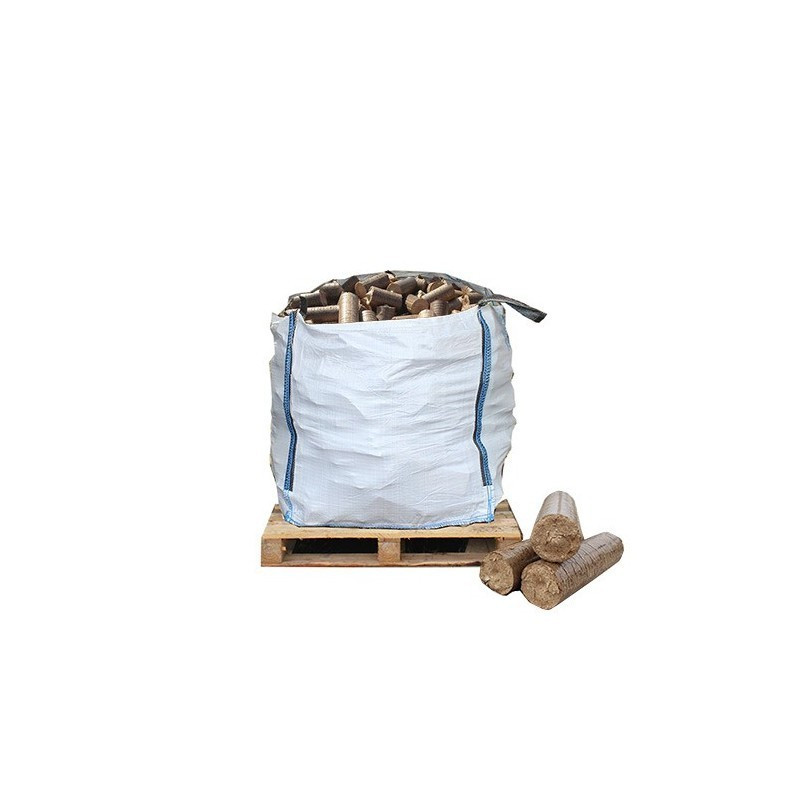  
Bulk Bag of Ecofire HotRod Mechanically Pressed Briquettes
Ecofire wood briquettes, made by a heavy-duty mechanical press. These briquettes are very dense, long-lasting, and very dry, high-quality heat logs. Perfect for use in Chimineas, open fires and multi-fuel stoves.
Ordinary firewood logs produce less heat until all the moisture is evaporated from the log, with these superb wood briquettes heat is produced almost instantly due to the ultra-low moisture content. Ideal for immediate use on Log Burners, multi-fuel stoves and Chimineas.
These briquettes, also known as 'heat logs' or 'eco logs' can be broken to any size quite easily, smaller pieces can even act as kindling so there is truly no waste with this item. The environmental impact of this briquette is reduced by the lack of individual product packaging, the only packaging is the pallet (which can also be burnt) and the small amount of external shrink-wrap to prevent moisture ingress.
These briquettes must be stored in undercover, dry conditions to retain their excellent burning qualities.
Please note that wood briquettes will expand a little during use so fill the fire grate a little less than you would with other fuels and be amazed as the fuel grows to suit and throws out huge amounts of environmentally friendly heat almost instantly! All our briquettes are made from virgin (not recycled) waste material from various sawmilling processes - most wood processed is FSC certified so you can be fully certain that this is the cleanest, most environmentally friendly coal alternative available.
This product is available in two sizes; 1m3 and 1.6m3 bulk bags.
The 1m3 bulk bag weighs approximately 500kg
The 1.6m3 bulk bag weighs approximately 900kg
The weight of this bag is an approximation, although that is somewhat variable due to natural material differences - in any case, the burn time achieved from one pallet will be approximately two or three times as long as a builders bag of part seasoned logs.
Please note that these pallets will be delivered by courier. The 1.6m3 bulk bag will be delivered on 18-tonne or larger sized vehicles, therefore please ensure that you are able to accommodate and accept deliveries from vehicles of this size. Should you require a smaller vehicle for delivery, please contact us to ensure we can facilitate this for you. If we are unable to deliver and you have not provided any additional details, your order will be returned to our depot and we will contact you to arrange an alternative delivery method or cancellation of the order where additional charges may apply.
For further information or delivery enquiries, please contact our sales team on 01536 267107.